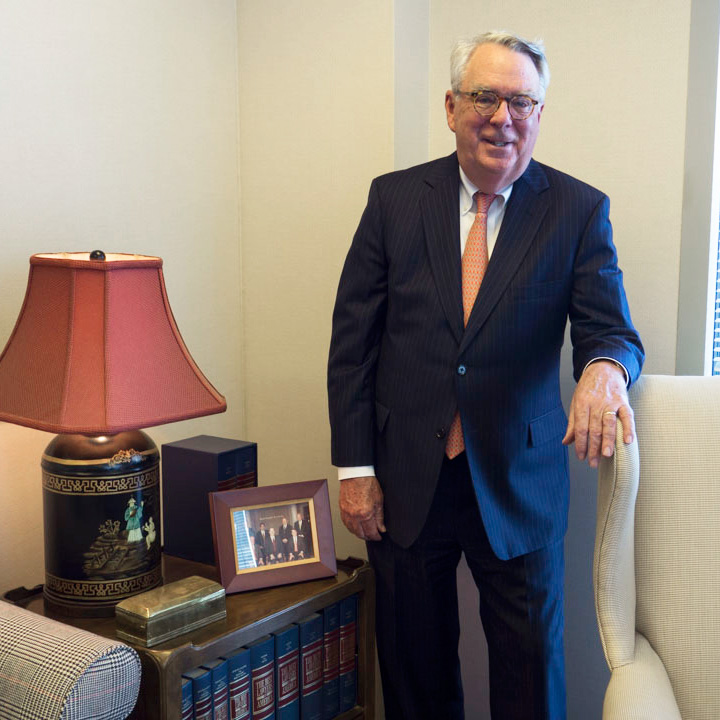 Tel: 502.589.5980
Fax: 502.561.9400
Areas of Practice
Civil Litigation and trial practice with emphasis on Corporate Law, Insurance Law, Product Liability, Legal Malpractice and Negligence Matters.
Education
J.D., University of Virginia, 1968
B.A., (with Honors), Davidson College, 1965
Experience
Ed Stopher became a partner with Boehl Stopher & Graves, LLP in 1970 and subsequently a member of Boehl Stopher & Graves, LLP until 12/31/2014. Mr. Stopher is currently an associate with Boehl Stopher & Graves, LLP. He is the former Chair of the Civil Litigation Section.
Mr. Stopher has represented corporate and insurance clients in all federal courts in Kentucky, before the Court of Appeals in Kentucky and the Kentucky Supreme Court, and in most state trial courts throughout Kentucky. He has tried more than 100 civil cases to a verdict and has successfully tried cases to verdicts in Florida, Georgia, and Virginia, as well as Kentucky.
In addition to defending various railroads, airlines and aircraft operators, truckers and trucking firms, gas transmission line operators and various other product liability and negligence cases, Mr. Stopher and the firm have been and are very actively defending insurance carriers in bad faith claims. The overwhelming majority of Mr. Stopher's trial experience is in the defense of corporations and insurance carriers. His trial court experience includes the defense of pharmaceutical-related claims, product liability matters, legal malpractice actions and various negligence matters.
Professional Recognition and Memberships
"The Best Lawyers in America" 1989 – 2015
Fellow, American College of Trial Lawyers
Fellow, International Society of Barristers
Founder, Sixth Circuit Review
Fellow, International Academy of Trial Attorneys
Fellow, American Bar Foundation
Member, Association of Defense Trial Attorneys
Member, National Association of Railroad Trial Counsel
Member, Kentucky Defense Counsel
The Lawyers Club
The Law Club
Super Lawyers- Kentucky Top Ten 2007-2016
2017 Kentucky SuperLawyers – Top 50
2018 Best Lawyers: Legal Malpractice Law- Defense
Mass Tort Litigation/Class Actions – Defense –
Personal Injury Litigation – Defense
Product Liability Litigation – Defendants
Professional Malpractice Law – Defendants
Mr. Stopher is a member of the Louisville, Kentucky, Federal, and American Bar Associations